The MQ16 can be used with other measurement equipment, like motion capture, eye marker, torq machines or video recorders. To synchronize these measurements with the MQ16, Marq-Medical offers a trigger system. The function of the trigger system is to set an event marker at precisely the same point in time on each measurement. With the event markers, the different measurements can later be aligned. The trigger system consists of a transmit trigger and one or more receive triggers.
Features
Precise and repeatable delay of 1.0 ms between trigger input and response.
Exact same output on both the transmit trigger and the receive trigger.
One transmit trigger can send to any number of receive triggers.
The small size of the trigger makes it easy to attach to a test person.
Range up to 10 meters.
Rechargeable batteries.
Timing diagram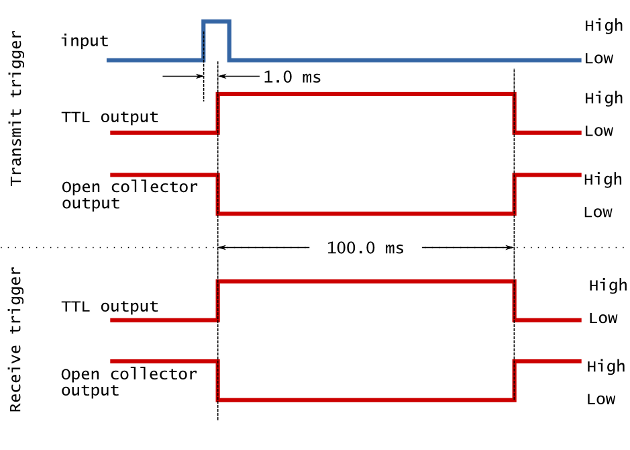 Specification
| | | |
| --- | --- | --- |
| Model | Tx Trigger | Rx Trigger |
| Trigger delay | 1.0 ms (±10us) | 1.0 ms (±10us) |
| Pulse duration | 100 ms (±10us) | 100 ms (±10us) |
| Battery time | 30 hours | 10 hours |
| Size (mm) | 80 x 40 x 20 mm | 60 x 35 x 15 mm |
| Size (inch) | 3.0 x 1.6 x 0.8 inch | 2.4 x 1.4 x 0.6 inch |
| Weight | 50 g (1.6 oz) | 40 g (1.3 oz) |