The MQ16 is a remote EMG recording device for scientific and pre-clinical use. It is wireless and fully programmable from a standard PC with Bluetooth® connectivity. The device can handle up to 16 sensors simultaneously. That is two sensors for each connector. There are further 4 digital channels to be used with footswitches and other contacts.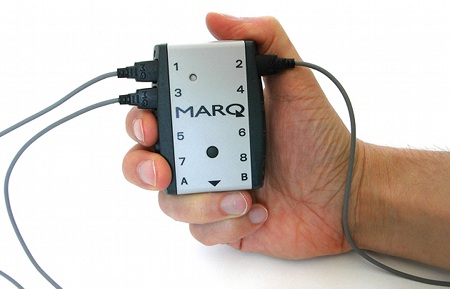 Features
Two-way Bluetooth connectivity.
Up to 16 channels with that can be used with any sensors.
4 digital channels for event-markers and synchronization.
Sampling rate 1 Hz to 30kHz. Up to 5kHz on all 16 channels in burst mode.
Internal memory for out-of range measurements.
Superior weight: 70gram (2.5 oz) incl. battery.
Small size: 7.2 cm x 5.5 cm x 1.9 cm (3″, 2″, ¾").
8 hour transmission time.
Buckle for easy attachment.